Die kleine Theatiner Parfümerie will always provide you with expert, personal advice from its small yet very well-trained team of specialists.
Michaela Andraschko, who has been an expert in cosmetics and beauty products for more than 30 years, makes sure that the high quality standards remain constant. Our customers benefit from her many years spent managing, training, and educating departments at leading international brand-name cosmetic companies in the perfume and luxury beauty treatment sector, and can look forward to excellent consultations and beauty products that are perfectly suited to them.
Whether for skin analysis, make-up and styling advice, the choice of the right accessories, the hairstyle for special occasions, or an elegant gift, our small, well-trained team of specialists is happy to advise you in detail and guarantees a personal touch and consistently high quality standards.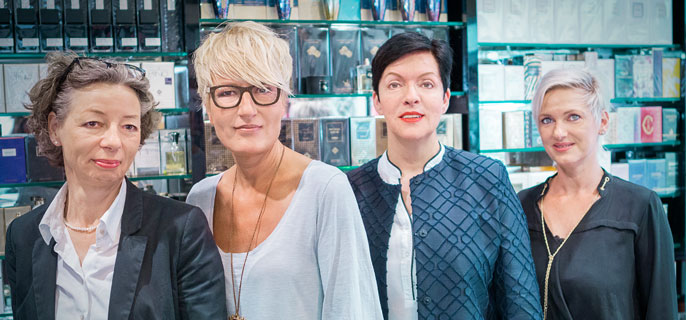 If desired, experienced cosmeticians will perform a skin analysis to find out which beauty products are best suited to your skin type.
Our make-up experts will be happy to consult with you on the perfect make-up and let you try our high-quality cosmetic products.
Color and style consultations, complemented with make-up tips, are provided in the shop.
Make-up workshops, and make-up and hairstyling for weddings can be arranged by appointment. We would also be pleased to consult with you in greater detail on the selection of the right accessories and hairstyles for those special moments or for elegant gifts.
Allow yourself to be pampered and spoiled in our spa area with the products of your choice from our large selection. Start with a highly effective facial treatment using the patented OxyGeneoTM System all the way through to dermabrasions for the back and upper arms.
Reserve your treatment today at the following telephone number
+49 89 - 26 79 19.
If you are not able to visit us personally in our perfume shop, you can arrange for a Skype appointment with one of our specialists at any time.